Decorative faux fur bedspread GRANDE PINI grey brown
Fashionable fur bedspread for bedroom and living room, made of the highest quality eco-fur.
Save by buying more

179,27 €
150,49 €

incl. VAT
Cheaper in the set by 16%
See the set

DECORATIVE FAUX FUR BEDSPREAD
GRANDE PINI GREY BROWN

The day is already dying out outside the window, and you only dream about finding a moment for yourself and relaxing after an eventful day. You come back to your beautiful home, sit on the sofa and wrap yourself in a soft, fur bedspread...
Sounds like a fairy tale? It can be, but it can also turn into reality with the help of GRANDE PINI in gray-brown. This fur bedspread is made of a high-quality gray-brown eco fur. It is thick, rich and so warm to the touch. Just sit back and wrap yourself in it!
The fur bedspread is a great addition to the home - it looks stylish, combined with classic and modern décor, and also has a very practical function: it provides us with warmth and comfort during cold days.


Bedspread GRANDE PINI can be paired with cushions from the collection, which you can find HERE. If you fancy a slightly different combination, check out our collection of elegant LUMA pillows.
---
REMEMBER!
By purchasing in our store, you support the local industry.
All our bedspreads and pillows are handmade in Łódź.
---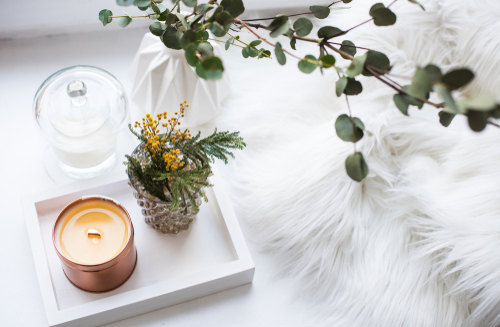 Would you like to share your magical FurDeko moments with us?
Upload a photo of your arrangement on Facebook or Instagram and tag @furdeko in the post!
---
How to care for your faux fur decorations? Read the instructions!
The faux fur decorations should be chemically washed using normal organic detergents or hand washed separately in a lukewarm water (max 30°C) and without soaking.
Do not bleach, wring or tumble dry. Gently tumble or squeeze excess water.
Gently comb the wet hairs (applies only to fur with straight hairs).
Do not bleach, do not iron. Line dry after previously forming the pillowcase.
If the pillowcase is strongly wrinkled, steam iron it in an upward position.